New Digital Release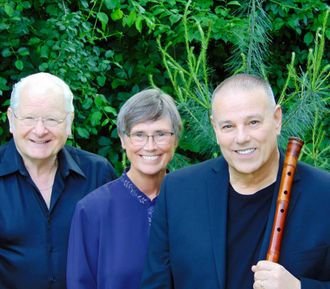 Crawford's crystal bowls lay the groundwork upon which Phippen's shakuhachi flute vibrations soar. Lunde's cosmic synthesized soundscapes assist in unfolding the magic from Spirit, creating captivating imagery from all that is Mother Nature.

 Track Listing:   1. Orion,  2. Blue Wisp,  3. Triangulum,  4. Andromeda,  5. Triangulum (Radio Edit)
 Check out the video of "Triangulum"
RAHBI CRAWFORD & PETER PHIPPEN
Rahbi is presently collaborating with Peter Phippen, A Grammy Award nominee and three-time Native American Music Award nominee. 
When Grammy-nominated flutist, and lifetime achievement recipient, Peter Phippen teams up with "sound healer" Rahbi Crawford, who uses vibrations from her singing bowls to correspond with a person's chakras—the body's energy centers, they create deep, meditative, healing soundscapes for the soul.                                                                                         
Phippen and Crawford are 2014 Native American Music Award nominees. Phippen plays bamboo and wooden flutes, and Crawford plays crystal singing bowls. The music is intended to create a serene atmosphere.
"The echoing sound of the crystals reaches out, blending with the flute to ensnare the listener with a deep spiritual experience. Haunting and vast."
- Dana Wright New Age Music Reviews
"I must admit I had never heard harmonics emerge from the speakers quite like this before. Although played at a moderate volume, I could physically feel the vibrations touch me as the music progressed."
- RJ Lannan The Sounding Board
---
About Rahbi Crawford:
Rahbi (Roberta) Crawford has accepted her calling as a Musical Mystic. (Mystic: One whose focus is union with the Divine).
She holds two Master Degrees, one in Music Education and another in Choral Conducting, and 6 years of advanced training in professional orchestral conducting organizations: including International workshops in the Czech Republic with the Zlin professional orchestra.
Her sound healing training includes Levels I & II from Tama-Do, Academy of Sound, Color and Movement, in the South of France. Besides her extensive musical skill and training, Rahbi brings to her music her own emotional and spiritual depth.
Rahbi has provided the background music for Mayo Clinic's, "Mindful Movements: Gentle Yoga" DVD and has been giving presentations in the Mayo Clinic Cancer Education Center as part of its Creative Cancer Renewal Program.
"Rahbi has more healing wisdom in her experience than millions of other professionals have in their training and academics. American Mindfulness uses this elegant system of healing because of one overriding reason. It works". - Kenneth Dennis, PhD, Rehabilitation Psychologist and Marriage/Family Therapist

About Peter Phippen:
Grammy Award Nominee, Peter Phippen is an innovative performer of fluted of the world. Researching the performance technique and history of his vast collection of antique and contemporary anthropological aerophones ultimately let him to bring this knowledge to concert stages and educational facilities.
Since 1993, Phippen performed concerts, workshops and artist residencies that are both educational and entertaining - an enchanting mix of the very old and very new in music. Peter has shared the stage with R. Carlos Nakai, Coyote Oldman, and Xavier Quijas Yxayotl to name a few.
Experience Peter Phippen's timeless world of sound images through concerts, workshops, lectures, assembly programs and residencies. His educational and entertaining program covers the folklore and history of fluted from around the world and throughout time.
As a recording artist for Promotional Music Records, Phippen has released seven CD of original music. Phippen's recordings have been aired on radio and television worldwide.
Peter is a Grammy Award nominee and three-time Native American Music Award nominee. 
"Peter is a consummate musician and a generous educator. His World Flute presentation was so engaging that none of us wanted it to end! As a performer, his mastery of such a variety of world flute styles is astounding. The subtlety of his performance was transcendent. We look forward to his next visit." - Brian Pertl, Dean, Lawrence Conservatory of Music.
WEBSITE: www.peterphippen.com
FACEBOOK: Peter Phippen Music